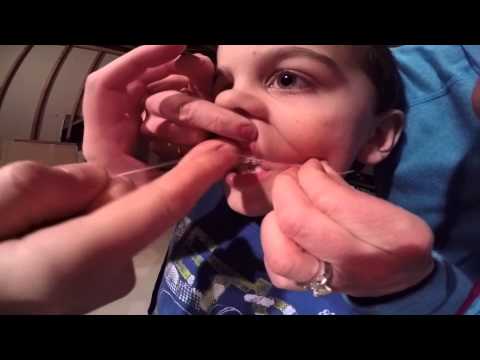 Hockey players lose teeth now and then; it's an occupational risk. But most of them don't try to dislodge a tooth on purpose.
A young hockey fan named Alex, however, recently flipped the scenario and attempted to remove a dangling baby tooth with a slapshot. His father, as dads are seemingly predisposed to do in such circumstances, helped secure tooth to string to hockey puck, then filmed the results.
He Shoots, He Scores
For 6-year-old Alex, waiting for his loose tooth to fall out or simply flexing it out were not viable options. The situation demanded something more creative.
So in their basement's makeshift hockey arena, Alex and his dad connected Alex's tooth to a hockey puck. Then Alex crouched into a power stance, reared back his hockey stick, and let loose a spot-on slapshot.
Sure enough, the puck carried the tooth with it. Score one for Alex, although he would have needed three more primary teeth for a hat trick.
Don't Try This at Home
The days of tying a loose tooth to a doorknob with dental floss are apparently over. The social media age demands more thoughtful and camera-friendly home dentistry treatments.
Here are just a few of the crazy implements used to pull baby teeth as demonstrated in a long list of YouTube videos:
Model rocket
Nerf gun
Radio-controlled helicopter
Bow and arrow
Baseball
Tee ball
Dachshund
Car
As this is a dental blog, it is our professional obligation to warn you to be careful about removing baby teeth, or any loose teeth, at home; especially discouraged is pulling out a loose tooth with a motor vehicle. While most primary teeth become progressively loose and detach on their own, or with a little help, it's important not to yank them out prematurely.
When to See a Dentist
Sometimes, the extraction of baby teeth by your dentist is beneficial. This may be advised due to dental injury, premature tooth decay or other underlying dental health issue.
Primary teeth may also linger longer with some children than with others. In some cases, a dentist may recommend extracting a baby tooth if adjacent permanent teeth are already forming in order to prevent the development of a bite condition.
It's fine to make an event of losing a baby tooth, and to have a little fun with it, but you should consult with your dentist if you have any concerns about your child's oral health.
If you're seeking exceptional dental care in the greater Austin, Texas, area, please contact Dan Matthews, DDS, online or call our office at 512-452-2273 to schedule your personal consultation.